RATED BUILDERS LONDON
London Builders
020 805 040 86
Recommended Builders
020 805 040 86
FULL HOUSE RENOVATION LONDON
020 805 040 86
PROFESSIONAL DESIGN AND PLANNING
Best Builders
020 805 040 86
HOUSE EXTENSION LONDON
Rated Builders
Custom Home Design Ideas in London: Innovative Extension Ideas
Custom Home Design Ideas in London: Designing your dream home is a thrilling journey, and customising it to suit your unique preferences and lifestyle can be an incredibly rewarding experience.
One of the key advantages of custom home design, provided by Rated Builders London, is the ability to tailor every aspect of your home to your liking. From the floor plan to the smallest decorative details, you can make choices that reflect your style and taste.
Whether it's a sleek modern aesthetic, a cosy and traditional ambience, or a fusion of different design elements, a custom home in London allows you to bring your vision to life.
So, let's dig into some exciting custom home design ideas in London ideas that can advance the charm.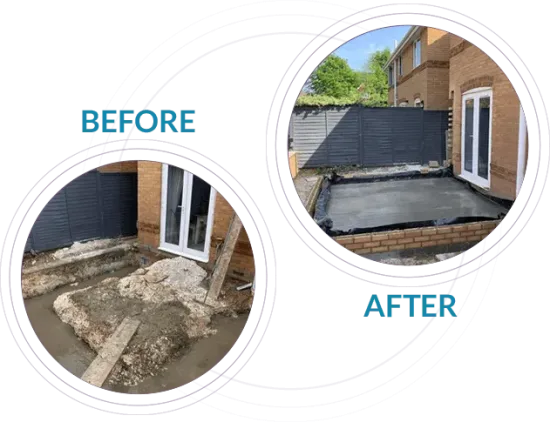 Top 3 Custom Home Design Ideas in London
When it comes to designing your dream home in London, personalisation is key. Customising your living space can create a unique and inviting atmosphere that reflects you. Here are the top 5 custom home design ideas in London to inspire your London home transformation:
Open-Concept Living Spaces:
Adopt the modern trend of open-concept living spaces that seamlessly integrate the kitchen, dining area, and living room. This design improves the flow of natural light and promotes a sense of spaciousness, making your home feel larger and more inviting.
Creative Storage Solutions:
Optimise your home's storage potential with the help of experienced custom home builders. Incorporate smart and creative storage solutions, from under-stair storage units to built-in shelves and cabinets. These custom storage options will help keep your living spaces organised and clutter-free.
Sustainable and Eco-Friendly Features:
Make your home environmentally friendly and energy-efficient by integrating sustainable features. Consider using recycled materials, installing solar panels, and implementing smart home technology to reduce your carbon footprint while enjoying cost savings in the long run.
Factors to Consider Before Undertaking on a Custom Home Design Project in London
Are you dreaming of a perfect home in London that reflects your unique style and meets all your needs?
Before you start this project, several essential factors must be remembered. Let's analyse them below:
Budget Planning:
Creating a realistic budget is the cornerstone of any custom home design project. Consider all aspects, such as land acquisition, construction costs, materials, furnishings, and contingency funds. Being financially prepared will prevent unwelcome surprises along the way.
Identify Your Requirements:
Start by listing your must-haves and desires for your dream home. Consider the number of bedrooms, bathrooms, layout preferences, outdoor spaces, and any specific architectural styles you prefer. Prioritise your needs to guide the design process.
Choose the Right Location:
Selecting the perfect location is vital for your custom home. Research different neighbourhoods in London and evaluate factors like proximity to amenities, schools, transport links, and prevailing community vibe. The location will significantly impact your daily life and property value.
Hire an Experienced Architect:
Collaborating with an experienced and reputable architect is crucial to bringing your vision to life, especially when working with luxury house builders in London. Look for professionals with a portfolio that aligns with your design preferences and understands local building regulations and planning permissions.
Future Expansion and Flexibility:
Plan for potential future needs and lifestyle changes. A flexible design that allows for expansion or modifications will ensure your home can adapt to your evolving requirements.
Lighting and Ventilation:
Ample natural light and proper ventilation are important for creating a comfortable and healthy living space. Work with your architect to optimise the placement of windows and consider innovative solutions like skylights.
Legal and Regulatory Requirements:
Familiarise yourself with all the legal and regulatory aspects of building a custom home in London. This includes obtaining planning permissions, adhering to building codes, and understanding any restrictions in your chosen location.
Communication and Collaboration:
Maintain open communication with your architect, builder, and other professionals involved in the project. Regular meetings and updates will help everyone.
Patience and Flexibility:
Building a custom home is a complex process that may encounter unexpected challenges. Stay patient and be prepared to adapt your plans as necessary to achieve the best possible outcome.
DO YOU HAVE ANY QUESTIONS?
FEEL FREE TO CONTACT US!
CALL US: 02080504086
Rated Builders London- Our Recent Projects
This error message is only visible to WordPress admins
There has been a problem with your Instagram Feed.
Maintenance Tips to Preserve the Beauty of Your Custom-Designed Home
Owning a custom-designed home is a dream come true for many homeowners. The unique features and personalised touches make it a haven of comfort and style. Here are some tips for your custom-designed home:
Regular Cleaning and Dusting:
The foremost step in maintaining the beauty of your custom-designed home is to keep it clean and dust-free. Regularly vacuum carpets and floors, dust surfaces, and clean windows. Collaborating with a reliable London building contractor can ensure your home remains in top condition.
Preserve Wood and Furniture:
Proper care is vital to maintain its elegance if your custom home features wooden elements or furniture. Apply wood polish or wax to protect the wood from scratches and enrich its natural beauty. Besides, keep furniture away from direct sunlight to prevent fading and deterioration.
Check for Plumbing Issues:
Water leaks and plumbing problems can cause significant damage to your home if left unattended. Routinely inspect your plumbing system, check for leaks, and fix any issues promptly. Regular maintenance will help prevent water damage and preserve the integrity of your home's structure.
HVAC Maintenance:
Proper HVAC maintenance ensures a comfortable living environment. Schedule regular maintenance checks, change air filters, and clean air vents to maintain optimal performance and energy efficiency.
Roof and Gutters:
Repair loose shingles or tiles and clear debris from gutters to prevent water build-up. A well-maintained roof and gutters protect your home from water damage and maintain its aesthetics.
Landscaping and Exterior Maintenance:
The exterior of your custom-designed home is just as crucial as the interior. Regularly maintain your landscaping by trimming bushes, mowing the lawn, and keeping it tidy.
Pest Control:
Pests can wreak havoc on your custom-designed home and cause damage that is both expensive and challenging to repair. Schedule regular pest control treatments to keep unwanted intruders at bay and protect the beauty of your home.
Maintain Electrical Systems:
Check for faulty switches and exposed wires, and have a qualified electrician conduct periodic inspections to ensure your home's electrical systems are safe and in good condition.
Update Interior Décor:
Over time, you might want to refresh your interior décor to keep up with changing trends and personal preferences. Consider updating paint colours, adding new accessories, or rearranging furniture to give your home a fresh and updated look.
Stay Proactive:
Above all, staying proactive with your home's maintenance is key to preserving its beauty and reaping the benefits of custom-built homes in London. Create a maintenance checklist and schedule regular inspections and upkeep tasks. Addressing potential issues before they escalate will save you time, money, and headaches in the long run.
Custom Home Design Ideas in London: Crafting Your Dream Home
We hope our tips on custom home design ideas in London will be useful to you. Selecting reliable and seasoned custom builders in London is crucial to creating a home that embodies your taste and personality. At Rated Builders London, we grasp the importance of comforting and tranquil living spaces.
With extensive experience in the industry, we have established ourselves as the premier builders in London, providing high-end and cost-effective services. Whether a new construction project or a refurbishment, we tackle each undertaking with an unwavering focus on precision and finesse.