RATED BUILDERS LONDON
London Builders
020 805 040 86

Recommended Builders
020 805 040 86
FULL HOUSE RENOVATION LONDON

020 805 040 86
PROFESSIONAL DESIGN AND PLANNING
Best Builders

020 805 040 86
HOUSE EXTENSION LONDON
Rated Builders
Custom Home Builders: How to Choose the Perfect One?
Building a custom home is a lifelong cherished dream for many. It's an opportunity to create a space that perfectly suits your lifestyle, preferences, and needs with the help of experienced custom home builders.
However, turning this dream into reality requires the expertise and skill of experienced home builders. Selecting the right building company in London to bring your vision to life is crucial for a successful and satisfying home-building journey.
In this post, we'll highlight the key things to consider when choosing custom home builders like Rated Builders London and how they can turn your dream home into a tangible masterpiece.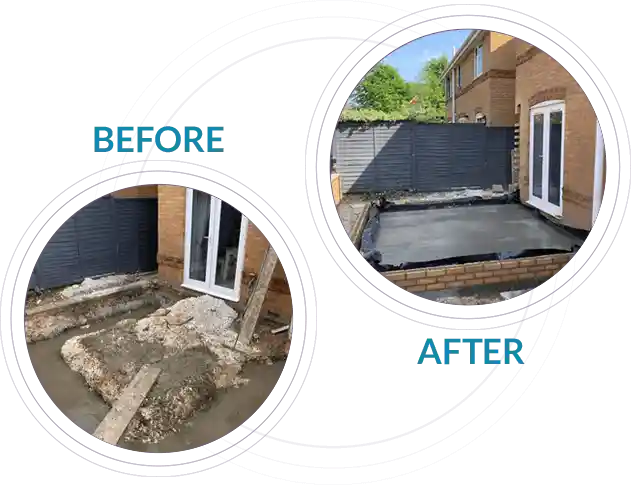 Advantages of Hiring Custom Home Builders
Hiring good builders in London is an excellent way to turn that dream into reality. These professionals offer numerous advantages over generic home builders, making the investment worthwhile.
Tailored Design and Layout
Custom home builders work closely with clients to create a home perfectly suits their needs, preferences, and lifestyle. From the initial design to selecting the materials, every aspect can be tailored to the homeowner's desires.
Quality Craftsmanship
They often have a reputation for delivering superior craftsmanship. Their attention to detail and dedication to creating a unique, high-quality home set them apart from mass-produced builders.
Personalised Features and Upgrades
With custom builders, homeowners can incorporate personalised features and upgrades that may not be available in standard homes. This customisation level ensures the house reflects the owner's style and functional requirements.
Energy Efficiency
They can integrate the latest energy-efficient technologies and construction methods into the design. This results in lower energy bills, reduced environmental impact, and more comfortable living space.
Flexibility in Budgeting
While it may seem counterintuitive, hiring custom builders can offer greater flexibility in budgeting. They can work with the homeowner to find creative solutions that align with the desired vision while staying within budget constraints.
Custom Home Builders Believe in Transparent Communication
They prioritise open and transparent communication with their clients. They keep homeowners informed throughout the building process, addressing any concerns promptly and maintaining a positive working relationship.
Faster Project Completion
Despite the misconception that custom builds take longer, experienced home builders can efficiently manage the construction process, leading to faster project completion than conventional builders.
Reduced Stress and Hassle
Building a home from scratch can be daunting, but custom home builders handle the intricate details, paperwork, and building permits, reducing stress and hassle for the homeowner.
Custom Home Builders Provide Warranty and Support
Reputable custom home builders typically offer warranties on their work, providing homeowners with peace of mind knowing that they can rely on the builder's support if any issues arise.
DO YOU HAVE ANY QUESTIONS?
FEEL FREE TO CONTACT US!
CALL US: 02080504086
Rated Builders London- Our Recent Projects
This error message is only visible to WordPress admins
There has been a problem with your Instagram Feed.
10 Tips to Choose the Right Custom Home Builders for Your Project
Finding the right London building contractor is crucial to turn your dream into reality. With numerous options, making the best choice requires careful consideration and research.
Here's a tour guideline to help you select the custom home builder for your project.
1. Define Your Vision and Requirements:
Begin by outlining your vision for the custom home and establishing a clear list of requirements. Consider size, layout, architectural style, features, and budget constraints. Having a well-defined vision will aid in finding a builder who aligns with your goals.
2. Research Builders in Your Area:
Look for reputable custom home builders in your local area or the region where you plan to build.
Check online reviews, visit model homes or completed projects, and seek recommendations from friends, family, or real estate professionals.
3. Evaluate Experience and Portfolio:
Assess the experience and expertise of potential builders. Review their portfolios to gauge the quality and craftsmanship of their previous work. Experienced builders will have a track record of successful projects and satisfied clients.
4. Check Credentials and Licenses:
Ensure that the builders you're considering are licensed, insured, and have all the necessary credentials to operate in your area. Proper licensing signifies compliance with building codes and regulations.
5. Interview Previous Clients:
Request a list of references from the builders and take the time to speak with their previous clients. Ask about their overall experience, communication, project management, and whether they encountered any issues during construction.
6. Visit Ongoing Projects:
Visit one or more of the builder's ongoing projects to witness their progress. This will provide insight into their construction methods, attention to detail, and relationship with their subcontractors.
7. Assess Communication and Transparency:
Effective communication is vital throughout the building process. Evaluate how the builder communicates with you, promptly addressing your queries and concerns. A transparent builder will be upfront about costs, timelines, and potential challenges.
8. Understand Warranty and Service Policies:
Inquire about the builder's warranty and post-construction service policies. A reliable builder will stand by their work and offer warranties to cover potential defects or issues that may arise after completion.
9. Compare Bids and Contracts of Custom Home Builders:
Obtain detailed bids from the shortlisted builders and compare them thoroughly. Look beyond the bottom line; examine what's included in the contract, materials used, and project timelines to make an informed decision.
10. Trust Your Instincts:
Lastly, trust your instincts when choosing a custom home builder. Select a builder you feel comfortable with, who understands your vision, and whom you believe will bring your dream home to life.
Custom Home Builders in Conclusion
When creating a home that truly reflects your taste and personality, choosing trusted and experienced custom home builders is essential.
At Rated Builders London, we understand the significance of a comforting and relaxing home and are dedicated to making your dream a reality.
With years of experience in the industry, we have earned a reputation as the best builders in London, offering quality and affordable services. Whether a new construction project or a refurbishment, we approach every endeavour with meticulous attention to detail.
Even the smallest elements can significantly create a space that brings joy and comfort to your life.